Jessica Rex, Mandy Muse - Super Sluts (VR, VR Porn, Virtual Reality, Oculus Rift)
Description: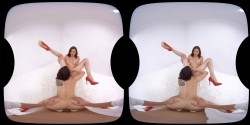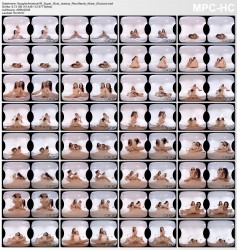 Red-heeled babes Jessica Rex and Mandy Muse know just what they're getting into with you today at Naughty America VR. The Super Sluts have paired together to give you an unforgettable experience that will leave you feeling confident and capable of doing anything. All Jessica and Mandy want is to make you feel good, and they're here to do that together. Sit down and put your VR headset on, these two will take care of the rest. They'll crawl to your crotch and unzip your dick out of your pants, stroking and sucking together to get you nice and hard. All the while their pussies are getting warm and wet, and the help of their tongues on each other holes only adds to the excitement. And don't worry, you'll be fucking both of them today, each of their big fat asses rising up and down as they take turns riding you. How slutty can the Super Sluts get? Just wait and find out for yourself…you won't be disappointed in this Naughty America VR threesome!
Genre: Athletic Body, Blow Job, Brunette, Caucasian, Cum in Mouth, Deepthroating, Facial, GG, Hand Job, High Heels, Innie Pussy, Lingerie, Virtual Reality, VR
Duration: 0:45:56 AM
Size: 9.73 GB
HD type of video: 2048p
Device type (for video of VR): Oculus
Video format: MP4
Video: MPEG4 Video (AVC) at 30 Mbit/sec.: 4096 x 2048 at of 59.940 frames/sec.
Audio: AAC at of 317 Kbps: 2 channels, 48.0 KHZ
Download - 4.7 GB
Download - 4.7 GB
Download - 527.6 MB
Tags:
Athletic Body
Blow Job
Brunette
Caucasian
Cum in Mouth
Deepthroating
Facial
GG
Hand Job
High Heels
Innie Pussy
Lingerie
Virtual
Post info
| Date: 10-06-2019 | Post:
docanet
| View: 50 | Cat:
3D & Virtual Reality Videos
|
Related posts