Free download porn game: Majalis - Tales of Androgyny - Version 0.2.01
Description:
Developer / Publisher: Majalis
Tags: rpg, action, adventure, sexy girls, big tits, big ass, all sex, blowjob, forced, humilation, gay, futunari, monster girls, fantasy
Censorship: No
Language: Eng
Version: 0.2.01
OS: Win
Size: 448 megabytes.
Description:
Hi there! This is a lewd game featuring characters with androgynous features, some male, some female, some... slime? You play as a feminine guy that looks like a gal, and you do lewd things with guys, gals, monster guys, monster gals, and... slimes? It's a stance-based RPG with rogue-lite elements and a frankly suspicious number of phallus(es? odes?) written, drawn, and programmed by us, the Majalis team, consisting of two programmers, one artist, one writer - making in all, two! It's a custom built game using libgdx.
Version: 0.2.0.1 - May 1st Weekly
New features:
- Can now zoom in and out on the World Map with scrollwheel or 'M' and 'N' keys - gestures to come!
- Can now scroll World Map with WSAD
New content:
- Added Dullahan encounter
- Branches for Charisma, Top perk, lewdness, and a new tight butthole check
- Battle optional
- Encountered randomly in the later areas
- Chastity cage alternative for Mermaid defeat scene
- New clouds on the world map that look purdy
Tweaks and bug fixes:
- Limited Warlock spell list
- Added free cock check to Angel encounter
- Fixed Kylira healing bug
- Adjusted some enemy stats
- Tweaked the intro to make it more seamless and stylish
- Clouds on the world map now move at different rates
Hunkydunky said: ↑
No update yet, majalis usually releases them weekly yes but usually every 7th, e.g 7th, 14th, 21st etc. so most likely wont be one until next monday, ofcourse its not holy, just usually every week, give or take a few days
They do their weekly releases every saturday. Last release (0.2.0.0) was a monthly release, and that's why it came out on a monday/tuesday
Screenshots: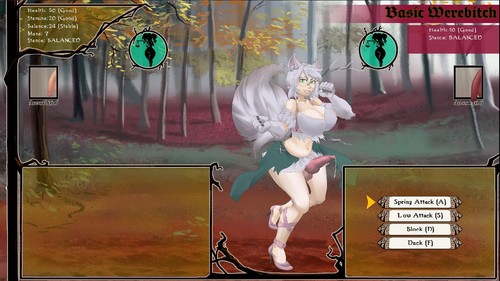 Download:
Download Majalis_-_Tales_of_Androgyny_-_Version_0.2.01.rar from ex-load.com (448.99 MB)
Tags:
rpg
action
adventure
sexy girls
big tits
big ass
all sex
blowjob
forced
humilation
gay
futunari
monster girls
fantasy
Post info
| Date: 06-05-2018 | Post:
Iemimm30
| View: 1 233 | Cat:
Adult games
/
2D games
|
Related posts