エレナクエスト~出稼ぎ乙女の冒険RPG~ / Elena Quest ~ migrant maiden adventure RPG ~
Description:
Original title: エレナクエスト~出稼ぎ乙女の冒険RPG~
Developer / Publisher: Mirukuse / ~ki(みるくせ〜き)
Tags: mirukuse, jrpg, fantasy, gangbang, group, rape, monsters, evil fallen, big breasts, big tits, cosplay,
Censorship: Yes
Language: Jap
Version: 1.06
OS: Win
Size: In Download.
Description:
"Sacred duty" labor is an obligation to continue until such time that ends the life of the villagers.
Law in a certain village. The villagers imposed a labor quota is limited freedom.
So protagonist Elena to live with their parents, it was at last to greet the "selection of the Day" ...
■ストーリー
「神聖な義務」労働は村民の命終わる時まで続く義務である。
ある村での掟。村人は労働ノルマを課せられ、自由を制限されている。
そこで両親と暮らす主人公エレナは、とうとう「選択の日」を迎えるのだった...
■システム
立絵任意で表示、メッセージウィンドウを一時消去/復旧、Hシーン回想、メッセージスキップ、8方向移動、戦闘高速化、音量調節(ボイスはありません)などを導入。
画面解像度は640×480。
基本的に戦闘敗北などでゲームオーバーになることはありません。(タイトル画面に戻されるもの)
特定の戦闘で負ける、町中で特定の行動とるなどでHシーンが見れます。
■内容
異種姦、機械、和姦、青姦、娼館、眠姦、薬、悪墜ち前作からあるものに加えて痴漢、ショタ、出産等のシュチュエーションを新に用意。
Screenshots: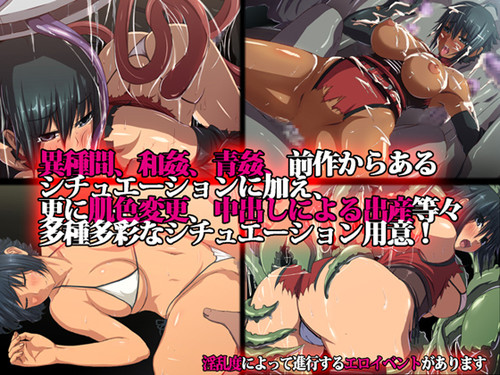 Download:
Win Version
Download Elena_Quest_Ver1.06_.rar from florenfile.com (648.19 MB)
Download Elena_Quest_Ver1.06_.rar from k2s.cc (648.19 MB)
Download Elena_Quest_Ver1.06_.rar from rapidgator.net (648.19 MB)
Tags:
mirukuse
jrpg
fantasy
gangbang
group
rape
monsters
evil fallen
big breasts
big tits
cosplay
Post info
| Date: 22-06-2018 | Post:
Iemimm30
| View: 419 | Cat:
Hentai games
/
2D Hentai game
|
Related posts